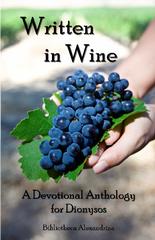 For thousands of years, Dionysos has gotten a bad rap for being an alcoholic womanizer who knows how to frighten a crowd with his fanatical behavior. It seems that anyone who walks his path is doomed to become a sex-crazed maniac who happens to know how to pick better wines than master sommelier Larry Stone. However, the folks over at Neos Alexandra, an online group passionate about the ancient Greek and Egyptian legacy, wants readers to discover a new side of the wild god. Written in Wine: A Devotional Anthology for Dionysos will quickly captivate readers into meeting an intoxicating, fascinating figure who isn't afraid to celebrate the joys of living freely.
Neos Alexandra is an Internet group that's making their mark in the publishing world. With over 30 contributors, both members and guest writers unite to honor an often misunderstood god. As a result of their collaboration, nearly 60 pieces, including poetry, essays, scholarly translations, and a play, Written In Wine does more than inspire readers into understanding who Dionysos really is. According to Written in Wine contributor Sannion, "50% of the royalties will be used to put on Neos Alexandra's four day gathering in 2009, 25% of proceeds will be used to bring out further devotional volumes for other Greek and Egyptian gods, and the remaining 25% will be given to a worthy charitable organization in the names of the gods of Greece and Egypt." Readers won't only get an extensive lesson on how to worship Dionysos today, but will also participate in a cause that even the gods would approve!
Not since Euripides' Bakkhai published thousands of years ago has Dionysos impacted the literature world. With many looking into the ancient lords for worship today, Written in Wine was greatly needed. Yet, who is this Jim Morrison of Mount Olympus who in some stories was the love child of Zeus and Semele, a mortal who met a tragic end? Jeremy Baer's "Culture from Counter-Culture" clearly states that he was the god of vegetation, particularly of vines and grapes. He further says that Dionysos is "a god who obliterated boundaries; the boundaries between individual and group, between man and god, between man and woman, between life and death (pg. 164)." It's comforting to learn that we can accept change through the guidance of a god whose feminine features drove male followers to cross-dress. Talk about defying societal expectations! Sannion also mentions in "The Path to Dionysos" that he helps us find "our authentic self, that part of us which too often becomes dulled and corrupted and hidden under layers of fear and social responsibility (pg. 23)." While Dionysos seems to quickly release our inhibitions, it's no wonder he's still affecting mortals today.
If Dionysos can lure sailors with looks alone, give divine ecstasy to women, and drive men insane, does this make him nothing more than a party god who stirs chaos without a flinch? Contributors reveal personal memories of how he forever changed their lives, rehab-free. Sue Thackston's "Love for Dionysos" says that after learning more about "the Woman-Maddener, The Cunt-Plucker, the Ivy-Crowned Bull Roarer, (pg. 18)." she ignored her insecurities and transformed into "a zaftig, middle-aged woman twirling, bumping, and grinding (pg. 18)." Many of the poems from Written in Wine serve as chants that invoke his traits into our lives, such as Hector Lugo's "Eyes Like the Fruit of the Vine," where he declares, "You look at me and I can feel it. Staring at the child I was once, at the man I have become. Your pleasures are mine, my abuse of them my curse forever more (pg. 125)." Ultimately, Amanda S. Blake's "Dionysos," an essay that explores how a drunken evening lead to an unforgettable premonition, makes a crucial point. In following his path, we can celebrate the fruits of our labor. "Wine was symbolic of the joy of being alive, which it was never offered to the spirits of the dead," she explains. "It would be an insult to remind them of what they no longer can be a part of. But, to be the God of Wine, was to be the God of Life (pg. 128)."
In this turbulent time filled with many uncertainties, it's no surprise that people are searching for a new path, not just for religious means, but for the sake of appreciating life. Written in Wine is more than just a how-to guide for those looking for ancient worship. Neos Alexandria manages to show us that life isn't all about facing challenges and surviving each day. If we want to obtain true happiness, we must take risks each day, spend a night out with friends, find peace just sitting in a garden, and more importantly, learn to live a little with no regrets. Like a glass of Merlot, Written in Wine is meant to be savored and enjoyed each day.
~review by: Stephanie Nolasco
Bibliotheca Alexandrina
CreateSpace, January 29, 2008
220 pages, $17.99
Available through Amazon.com