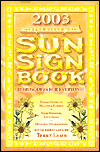 As the year ends we look towards the upcoming solar year and the information we can gather about what may be coming for us.

It is the time for new calendars and forecasts and two of the most popular are from Llewellyn Publications.

The 2003 Sun and 2003 Moon Sign Books are good, although basic, because they are not just horoscopes for the coming year; they also try to educate the reader about the astrology, albeit somewhat superficially.
This year's Sun Sign Book is authored by Terri Lamb; a dramatic change as the previous author has been writing this annual since 1990.

Ms. Lamb writes in a style that is easily readable and conveys a reasonable amount of information in a relatively small space. Although there is no way a general horoscope for the masses could be as accurate as a chart cast especially for an individual, the information provides a pattern of information that is valuable.

I read through the general information for the signs of people close to me, and the information seemed quite accurate.
Each chapter for the zodiac begins with a one page summary of information: element, quality, meditation (a kind of one line positive mental state creator), correspondences (stone, herbs, colors, etc.), myths/legends and so on.

The next pages are devoted to the overall feel of a sign throughout its life -- love, finance, power and famous people.

Then comes the year ahead information, beginning with a quick overview of the year broken down by periods of time during the solar month.

For example, if you were an Aries born during March 21-24, there is a variation in what you will experience, as compared with those Aries born at other times during that month.
A note about this: I do not know whether this was a consistent mistake, but not every day is represented in these quick overviews.

Using Gemini as an example, there is information for those born during May 21-25, May 21-June 4, May 30-June 4, June 8-11, June 13-21, and June 17-21.

So if your birthday falls on June 5-7 or 12, there is no specific information listed for you.
Each Sign has a section on "Tools For Change", which is a discussion about what the sign can concentrate on for the best, most positive self-growth during the upcoming year.

And then, of course, there are the monthly horoscopes about love, finance, health and those all-important challenging and rewarding days.

I especially liked Ms. Lamb's notes on what quality is spotlighted as well as her "Cosmic Insider Tip" -- an extra bit of help during the month's challenges.

The chapter ends with an "Action Table," reflecting the best dates (although not the only) for success in a variety of activities.
As always, the Sun Sign Book also includes short articles on such topics as the houses, career trends, healing, and solar magic.
The Moon Sign Book, for one reason or another, was of more interest to me -- for one thing I remember reading it as a child. The moon is a powerful entity. It controls everything from the tides of the ocean to our personal emotional cycles.

Naturally we want to gain insight into every aspect of our daily lives, and knowing the moon's influence provides a piece of that picture.

Being aware of lunar timing will help you plan for and take advantage of the moon's beneficence.
As in the Sun Sign Book, the articles in the Moon Sign Book serve the purpose to whet the appetite of the newcomer to astrology.

Here one finds helpful information about moon phases, retrogrades, finding your moon sign, lunar forecasts and lunar void of course phases.

It is a more robust book than the Sun Sign Book.
The Moon Sign Book lists special days for making purchases, or planning a trip. If you have a small business or are beginning one, this book can give you the best days for a successful venture.

In my family, knowing when to take advantage of 'fruitful' days for planting was always very important.

I know from experience that you can have the best and most beautiful gardens if you take advantage of lunar timing.
Although there is a disclaimer stating that for complete accuracy in determining your moon sign you should have an astrological chart cast, I found the method of obtaining your moon sign confusing.

This year they are using a system devised by Grant Lewi (author of Astrology For The Millions).

Basically you check a table to see if your birth date and year are listed.

If so, then you are given a base number corresponding to the sign and degree the moon was in on your birthdate.

This was the case for me.

However, when I checked for a friend of mine, I had to do a more complex calculation and the result was inaccurate (my friend has had his chart professionally cast).

Despite this, I found the lunar forecasts to be insightful and (hopefully) useful.
The articles are what make the Moon Sign Book so robust.

Everything from health and beauty, legal commentary, business rulerships, weather forecasts for the United States, and emotional healing is covered.

I enjoyed reading about 2003's lunation cycles of new and full moons, by Leah Whiting.

Terry Lamb's article, Lunar Hot Spots: Keys to Overcoming Life's Obstacles, was incredible.

Her wisdom on allowing the unexpected and unforeseen to be moments of teaching, rather than crisis, was wonderful to read.
For those who cannot afford to have a professional astrologer inform us of what is coming and how we might choose to cope, Llewellyn's Sun Sign and Moon Sign Books are an inexpensive and fun way to get a rudimentary glimpse into what the coming year may bring us.
~review by Lisa Mc Sherry
Author: Terry Lamb
Llewellyn Publications, 2002