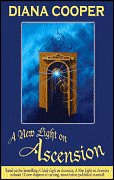 A New Light on Ascension is an expanded version of A Little Light on Ascension, first published in 1997. This 2004 edition incorporates new material on the chakras and the spiritual hierarchy. According to Diana Cooper, ascension means raising our vibrations to the level of Light.
Much of this book's emphasis is on maintaining a high vibration in your self. The author points out that our thoughts are energy, and have a great effect, for better or worse, on ourselves and those around us. In order to achieve Ascension, the seeker is advised to purify and cleanse their thoughts and chose loving actions for the higher good, in order to live in joy and freedom.
"When you wish to manifest a thing, a person or a situation into your life, you focus on the higher qualities this manifestation will bring to you."
Ms. Cooper receives impressions from Kumeka, Master of the Eighth Ray, and an Ascended Master. In this work, Kumeka relates through Ms. Cooper how to raise your vibrations in order to communicate clearly with beings of spirit, and with the ultimate goal of achieving Ascendancy status. Each chapter concludes with exercises or meditations to assist the reader in relaxing, making contact with guides and raising their vibrations. I found both exercises and meditations to be easy to read and use.
The final five chapters are devoted to Ascended Masters and their positions within spiritual hierarchy. Occasionally discussions of ascended masters sound to me like corporate restructuring. For those interested and knowledgeable on the topic, you will gain information about where each master is focusing his or her wisdom and assistance. Readers without a bit of background on ascended masters, who they are and what their duties consist of, may be a bit lost.
I did like this book. It read easily, the chapters were short and addressed their topics very cleanly, (angels, spirit guides, light levels, etc.) and included examples of pertinent situations. The meditations at the end of each chapter addressed the topic, and were very user-friendly, even if you're new at meditating. While I may be uneasy with the information about ascended masters, I certainly felt the rest of the book to be a very good and interesting tool for spiritual cleansing.
~review by Karen Phillippi
Author: by Diana Cooper
Findhorn Press, 2004
pp. 208, $14.95
www.dianacooper.com