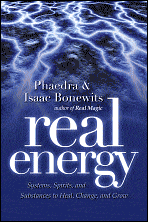 Are you one of those people who works with energy (to heal, to connect, etc.) and you are tired of learning from people who mix it up with lightforms and channeled beings? Then please, let me recommend Phaedra and Isaac Bonewits' Real Energy to you.
This is a dense book, one I've been wading through for several months now. But when I finished it, all I could do was cry -- Yes! After years of getting confused by theoretical physics and bored by metaphysical perspectives too far from my own practical nature I feel like I now understand how energy works, and can be worked (if you will) far better than I have ever before.
The Bonewits' carefully and thoroughly describe how energy works – both for the self and in the environment. It can be a bit dry at times (I'm very much a 'just tell me how it works, don't tell me why it works that way' kind of person) which is one reason it took me so long to read through it. The authors connect the energy in the elements, astrology, nature, Feng Shui, and many other forces, to one another.
But Real Energy is not just about theory. It also includes a good variety of exercises that are a bit basic, but not boring. Best of all, they are excellent foundation work for those who want to take it 'a step further' and experiment on their own.
The back cover promises "Now, for the first time, a single book discusses the vocabulary, magic, metaphysics, art, and science of energy from a multi-model, 21st century perspective" and the Bonewits' deliver on their promise.
When it comes down to it, all of Mr. Bonewits' books should be on the shelves of every Pagan seeking to deepen their understanding and knowledge about the world. (OK, I guess you can skip his Druid-only works, but I advise that you read them anyway before passing the books along to another.)
Written with dry humor and exquisite wit, Real Energy is a factual, practical, essential guide for all of us in the Pagan community. Highly recommended.

~review by Lisa Mc Sherry
Authors: Phaedra & Isaac Bonewits
New Page Books, 2007
$15.99, pp. 288