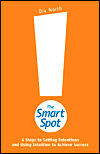 "Energy follows thought, and by directing the change, you create a path for it to follow." This is the premise of Dia North's The Smart Spot. It's a "how-to" guide for focusing your energy and your thoughts to manifest your goals.
Right up front, I was impressed that the subject matter and techniques were presented using straightforward language and solid business examples. There is nothing particularly metaphysical in the language. It's very factual and down to earth. In my opinion, this is well written for the business person, because while it talks about "grounding" and "intention", it does so in a business-like, professional manner. You won't raise any eyebrows carrying this title around. It could very easily be another business communication book.
The four steps presented are grounding, intention setting, accessing your creative intuition, and acting with intention. Each skill is presented with a description of the behavior or feeling of the skill, the energy explanation, several stories, guided visualizations, exercises to reinforce learning and a "My Intention" exercise to set your own goals.
One of the key points Ms. North makes, is that you must act, in order to manifest. This is part of the final chapter, and ties the entire book together. After grounding, setting your intentions and receiving intuitive insight, you must take some forward action. Too often creative energy is simply squandered if we're not willing to take that actual physical step.
The Smart Spot is easy to read and a good resource. I tried the exercises and they were very helpful. While I may normally employ different ways to achieve the same result, this could easily be used by anyone at anytime. If you have someone who could benefit from grounding, intention setting and intuitive answers, but who is leery of anything they consider "offbeat", this book is may be very helpful.
~review by Karen Phillippi
Author: Dia North
Red Wheel/Weiser, 2003
pp. 135, $14.95 US