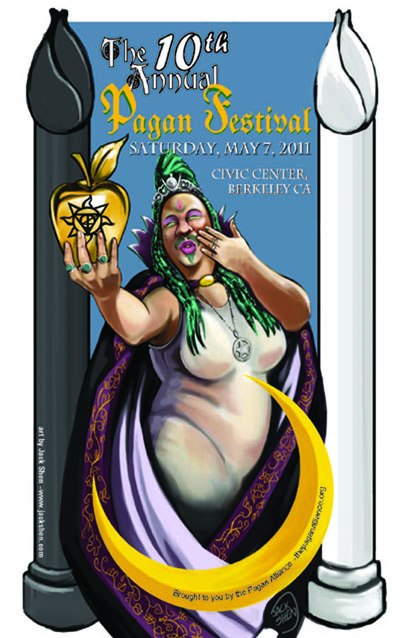 When: May 7, 2011

Where: Berkeley, California
Civic Center Park, Berkeley, California
Martin Luther King Jr. Way (between Center and Allston)
2151 Martin Luther King Jr. Way ,  Berkeley CA 94704

Theme: "Spiral of Life"

Cost: Free; open to all

Website: http://www.thepaganalliance.org/

This year's festival will feature a Pagan Market Place that will integrate all vendors, services, and information booths within the circle. The Pagan Alliance Information Booth, the Authors Circle, a Druid Story Telling Pavilion, Community Altars, Altar to the Beloved Dead, the Temple of Change, and an Arts and Crafts Pavilion will be back.

The Temple of Change is an on-going project that presents an opportunity for the community to share ideas and inspirations for Change.

We will again be connecting Donations for the Alameda County Food Bank. This year the Pagan Alliance is partnering with the Upper Midwest Pagan Alliance to do a project to aid our community in collecting personal and magical supplies for Pagan soldiers in the Iraq and Afghanistan war zones.

The Parade Launches from Civic Center Park at Noon.

Performers include:
* Shay Black
* Diana Rowan
* The Mano Cherga Band
* Hobbyhorse
* Amelia Hogan
* Circle of Dionysos
* Copperwoman
* Kettlefish (of Land of the Blind)
* Beltaine's Fire
* Pepper Alexandria's Ghawazee
* Ariellah-Dark Fusion & Tribal Belly Dance
* Paige Lawrence
* Sirens in Sanity
* Goddess Force

Speakers include:
* joi wolfwomyn
* Diana Paxson
* M. Macha Nightmare
* Max Dashu
* Morpheus Ravenna
* Don Frew

Best Costume prizes for Youth and Adults!
Best Float prize!
Volunteers, Vendors and Info Booths Wanted!