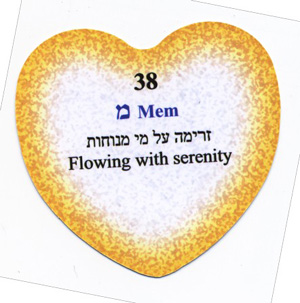 This new tool from Kabbalah Insights is designed specifically to give information and advice about relationships, and insights for the analysis of interpersonal situations.

This oracle deck features 72 heart-shaped cards. One side of the cards has an image from Orna Ben-Shoshan's artworks. A number and brief meaning is printed on the opposite side, in English and Hebrew. The 72 letters are the twenty-four letters of the Hebrew alphabet operating in three different modes. This triplex alphabet is the "cosmic DNA used in the creation of the Universe."

The Alphabet for Lovers"is obviously geared toward gaining insights about intimate relationships. But it's useful for any kind of relationship: parent/child, boss/employee, friend/friend, family relationships of any sort, business relationships, etc. The cards are especially useful when the querent is experiencing emotional confusion or contradictory feelings about another person. The meanings of the cards help to clarify different aspects of the querent's emotional state. This oracle deck offers unique benefits for individuals who are seeking a new relationship. The cards may point out personal traits that must be made conscious and modified to move forward into a new relationship, or they may direct the seeker to a certain person of interest. The cards can also show the root of problems within existing relationships, and suggest ways to heal the breach or move on to greener pastures.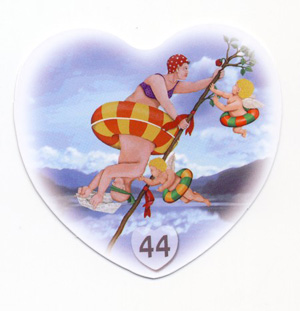 The oracle kit comes in a two-part box that contains the 72 cards, an organza bag to hold the cards, and an in-depth 104-page guidebook. Each letter-card can be looked up in the book by its number. The card has an overview description, followed by a paragraph for singles, a description of personality, and an advice section. The personality descriptions are often rather spooky in their accuracy of the individual the querent is dealing with, and this makes it quite clear which specific relationship the card's wisdom is addressing.

For tarotists who delve into Kabalistic attributions, the "Alphabet for Lovers" and the "72 Names" deck are valuable resources for information about how the Hebrew letters supplement trump card divinatory meanings. Each letter's triple occult manifestations show related but distinct facets to the letter attributions.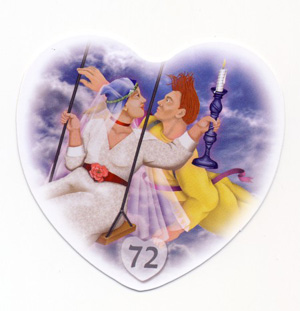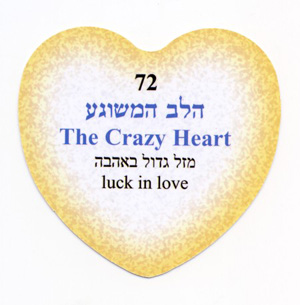 Readers who serve clients interested in guidance in love relationships will greatly benefit from using the "Alphabet for Lovers" as a supplement to a tarot reading. The cards give deep and specific insights about significant others that many clients seek from a reader. The interpretations in the booklet are well-written and supply a comprehensive resource for the reader and querent. Recommended.

~review by E. Hazel
first published in the ATA Quarterly Journal, Winter 2012 issue

Author: Orna Ben-Shoshan
Kabbalah Insights 2012
Kit with cards, cloth bag and guidebook - $33.00.
http://kabbalahinsights.com