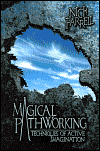 Pathworking (guided visualization) is an integral part of my magickal education and teaching and my coven participates in some kind of pathworking at nearly every one of our rituals. My knowledge is primarily intuitive and I have had amazing results through the years. I read Magickal Pathworking with a strong sense of recognition and grateful pleasure that someone finally wrote down what I have been working with for years.
Nick Farrell's writing is elegant and straightforward, despite his background in the decidedly esoteric Western Mystery Tradition. He describes a number of accessible and adaptable techniques for exploring the inner landscape and working with a group to create conscious constructs. Mr. Farrell does an excellent job of providing the history behind the techniques and how they came to be developed.
From a psychological perspective, the use and implementation of a well-executed pathworking can help the operator acknowledge misplaced feelings and challenge fears and phobias. On a spiritual course, pathworkings are ways to contact the divine, develop the imagination, and improve the magickal will. One of the best lessons is the practical advice on building your own inner kingdom, which can be a starting point for a variety of creative ideas during your life. Another excellent chapter discusses how to use the imagination to change your psyche through a specific outline of steps. This is not a panacea, but it could have positive life-altering affects.
I highly recommend Magickal Pathworking for beginners as well as those of us who have been working for decades -- the writing is at the level that every one of us can understand the concepts that he is discussing.
~review by Lisa Mc Sherry
Author: Nick Farrell
Llewellyn Publications, 2004
pp. 226, $16.95