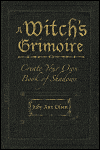 This book is visually striking; between its black front and end covers are pages that have ragged edges, a look that implies the knowledge inside is ancient and, as Nock proves herself to be a through researcher, much of it is. My favorite line in a spell presented here has to be, hands-down, the following that was originally from an Icelandic grimoire called the Galdrabòk and then was tweaked a bit by Nock:
"…this I do bid thee, Lady, Queen of Heaven, so that everyone who sees me today will have to cast kind glances at me and will be delighted with me."
Hey, I like that! And I also liked A Witch's Grimoire: Create Your Own Book of Shadows very much indeed. It is a bit misnamed, in that it goes much farther than just making a book to record your magickal workings (although the author gives detailed instructions for quite literally making your own recycled paper and do-it-yourself binding should you go the handmade route). It actually is a workbook for what you will fill your grimoire with– and in that way, it is an excellent Wicca 101 text and then some.
Nock produces tables with the Theban alphabet, the Futhark runes and the Faerie Runes– should you want to spruce up your book of shadows with a bit of mystical handwriting. She also provides basic Wiccan knowledge, such as learning about the elements by direct experience with various exercises, calling the directions and then progresses to the wheel of the year, candle magick, the meaning of gemstones and crystals, and more. Her questions are more suggestions for what you may want to enter into your book of shadows, with the emphasis on using your own originality based on your own perceptions.
Questions are thought-provoking, such as when learning about the various goddesses and possibly identifying with one, asking the reader what age she is biologically and then what age she feels like she is. This would resonate, I suspect, with Maidens who feel like Crones and vice versa.
It is Nock's hope that "the repository of your most private thoughts, spells, chants and meditations will, at times, seem more like a friend than a book," and by journaling at one's own pace with this book -– both Nock's and your personal grimoire — that will likely be achieved.
~review by Diane Saarinen
Author: Judy Ann Nock
Provenance Press/Adams Media 2005
246 pp., $12.95