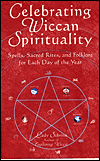 While the book does indeed contain "spells, sacred rites and folklore for each day of the year," a good deal of this information does not concern Wicca. A more accurate title would be "Celebrating Pagan Spirituality" although there are many days referencing Christian saints. While this doesn't make the information in the book any less interesting, someone ordering the book sight unseen, based on the title alone and expecting Wiccan-specific "spells, rites and folklore" probably isn't going to know what to make of March 15 being referenced to Buzzard Day in Hinckley, Ohio or August 16 to the anniversary of Elvis Presley's death.
Set up as a book of days, with a reading for each day of the year, some of the readings are informational only, others are accompanied by a spell or activity related to the day's reading. Most of the spells and activities use materials that are easy to find and have clear instructions. I was bothered by the love spells being worded to gain the love of a specific person, since this is a violation of free will. I suspect a practitioner with some experience (and ethics) would know to alter this to a more general formula, but what about the "Wiccan newcomer" to whom the book is pitched on the back cover?
There is an appendix of rituals specifically for the Wiccan sabbats, which are straightforward enough. However, they are not fully scripted. Since the book is being sold as suitable for "newcomers," an explanation, if not a script for each rite, would be appropriate, especially since the "Rite of Union" can range from the purely symbolic to actual sexual intercourse, depending on a coven's traditions. There is also an appendix of correspondences and a bibliography.
Criticisms aside, Celebrating Wiccan Spirituality is a fun and informative read. Readers are almost certain to learn something with each reading, and will likely be able to use many of the activities either personally or in ritual.
~review by Jackie Gorman
Author: Lady Sabrina
New Page Books, 2003
pp. 379, $14.99