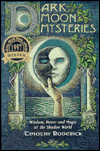 When I first discovered Dark Moon Mysteries nearly 10 years ago, it immediately found its way onto my permanent bookshelf because it was the first time anyone ever recommended doing magick during the waning and dark moons. At its core, this is a guide for tapping into the subconscious energies that lurk in the dark recesses of the mind's eye. Timothy Roderick combines ideas and concepts of Wicca with those proposed by mythologist Joseph Campbell and psychologist Carl Jung to guide us on a mystic quest inward of our own. He has designed tools using meditation, ritual practice, magick, and crafting which can aid us in becoming more aware of own 'issues' and methods of obtaining inner peace with them.
Using myth and fairy tales to explain various aspects of archetypes and energies that work in these 'dark' areas, Roderick's training as a psychologist and pagan comes through in his ability to clearly explain difficult and unusual concepts in easy to understand language. This book deals mostly with are things that we may not even know are 'issues' for us as they are psychological, metaphysical, and sometimes physical tension built up from times when maybe we were not able to express our deep emotions and feelings when something happened to or around us.
This 'revised and expanded' edition seems to be the same as my old familiar, with the addition of a long chapter at the end "Ten Years Later." This chapter is nearly worth buying the book again. Roderick speaks at length about the cultural aspects of working magick, and how it can interfere with our connection to the Divine. He then introduces us to two new ways of working with the subconscious, Spirit Clearing and Shadow Glancing before giving us a couple of advanced ritual workings (like the fascinating Drawing Down the Dark Moon).
If you don't own this book, I strongly recommend you buy it. If you have the earlier copy, then ask for the revision as a gift. If you have any interest in working with the shadow side of the self, and of magic, you want to own Dark Moon Mysteries.
~review by Lisa Mc Sherry
(review is for the Revised and Expanded 10th Anniversary Edition)
by Timothy Roderick
New Brighton
Books, 2003
pp. 220, $16.96