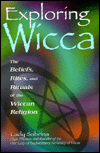 When I was 13, living through an eternal hormone-induced place of damnation, I found my mother's copy of The Spiral Dance.

She had it because she was a feminist, I read it because the idea of being a 'witch' sounded cool.

I became a witch because Starhawk showed me a place I remembered, a way of being that felt right.
Back then, there was very little available to the budding witch – even in cosmopolitan San Francisco.

So I was neither as fortunate nor as cursed as you are in today's world of a dozen books per subject. Fortunate because you can go into almost any major bookstore or shop around online and just pick up a book about witchcraft.

Do you have any idea how hard that was in 1980? Finding a copy of Z. Budapest's The Women's Book of Holy Mysteries, pt 1 was like a miracle for me. But you are cursed as well because there is so much waste of paper in the form of books about this religion we call Wicca.
Lady Sabrina's Exploring Wicca is not a waste of paper. Well-written and (more importantly) well-organized, the author takes you through basic concepts and solid information to a place where you will feel comfortable creating and enacting rituals.

Unlike many other authors, Lady Sabrina places her focus on the ritual aspects of Wicca, rather than the magickal ones.
Some of the things I particularly liked was her emphasis on Wicca as a new religion, one that can not be proven to exist before G. Gardner, although her insistence on what felt like purely arbitrary distinctions of 'functional' and 'devotional' branches of the Craft left me puzzled. After introducing the reader to the foundations of the Wiccan beliefs, she describes the Gods and Goddesses in various aspects, and then gets into the myths and scriptures most common to this religion.
The bulk of the book is devoted to understanding the different elements of doing rituals – from symbols and elements through to esbats and sabbats.

I think she does a very good job of explaining the whys and hows of this vital aspect of Wicca, and her ritual examples are clearly from her own tradition.
It is only in the last third of the book that Lady Sabrina talks about magick. I found this to be a refreshing change from most 'Wicca 101' books that have you casting spells long before you understand you personal relationship to the Deity. The only criticism I would have is that she could have spent more time on this section, perhaps cutting the divination information in favor of telling the reader more about visualization and focus. Then again, that subject has been dealt with very well by other authors.
Despite this, I want to emphasize that Lady Sabrina has not created a book of spell recipes, but a practical primer and introduction to Wicca. In the end I say, "Well done," and well worth the purchase for any person looking to get more basic information about Wicca.
~review by Lisa Mc Sherry
Author: Lady Sabrina
New Page Books, 2006
$12.99