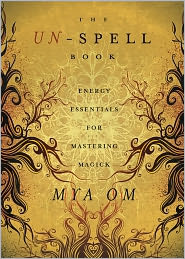 While many magical books offer spells and correspondences, Mya Om fills in the gap on how to get those spells to work in The Un-Spell Book. This training manual for making magic happen shows a practitioner how to do emotional self-checks, how to enhance the meditation practice necessary for effective spell casting, and walks her readers through the beginnings of elemental mastery.
This hand-size volume packs volumes of practical and innovative advice between its small cut pages. From the basic but necessary skill of mental focus to the more complicated practice of elemental working, Om fishes out the most neglected of magical skills. Along with common methods of mental focus, she sets forth a program of ethical self-check for emotional thinkers, and concludes with how to make a proper cup of tea.
Om makes a wonderfully heretical assertion: spell casting should be simple and easy. Om is right, spell casting itself is easy. Yet, as the very existence of The Un-Spell Book attests, the mindset to make it easy takes daily effort.
While directed at all levels of magical worker, this book belongs in the extremely rare "intermediate witchcraft" category. A witch that tries these techniques will definitely feel as though he or she has gone somewhere with it.
Highly recommended
~ review by Diana Rajchel
Author: Mya Om
Llewellyn Worldwide
244 pp. $16.95