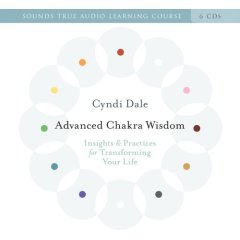 We're familiar with Ms. Dale's work here at Facing North and we've enjoyed her writing and perspective over the years (see Attracting Your Perfect Body Through the Chakras and . In Advanced Chakra Wisdom, she's taken the huge field of chakras and absolutely provided some of the best teachings I have ever been made aware of.
It is very tempting to start somewhere in the middle, somewhere that calls to your needs right now (such as identifying and healing spiritual 'bindings'). DO NOT do that, it's like trying to do chakra work by starting at the heart chakra and not even looking at the other chakras. Give yourself the gift of starting from the beginning and working your way through the entire set. There is so much information here it is nearly overwhelming and I believe you find that most of it is relevant in one way or another.
Advanced Chakra Wisdom draws on a number of perspectives, from esoteric healing traditions, to Dale's own experience as a healer, and from modern science. Ms. Dale does an excellent job of organizing it all and has created a series of discussions and meditations that build on each other in gradually expanding spheres of knowledge.
This review has been a very long time in coming as it has taken me nearly a year to work my way through it all. I have been working with my chakras and doing a lot of energy work for decades. Advanced Chakra Wisdom took me to new levels of knowledge.
Highly recommended.
~review by Lisa Mc Sherry
Author: Cyndi Dale
Sounds True, 2007
6 CDs with six hours of information $69.95
www.soundstrue.com