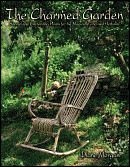 Gardens are places of magic – regardless of whether they are formally planned and precisely cared for, or if they are simply a patch of plants allowed to grow randomly. Luckily, it is not too difficult for us to create our own little patch of magic right in our own backyard.
There are many books on both gardening and magical herbalism, but rarely combined. Morgan does a wonderful job in doing so. The bulk of the book consists of an Encyclopedia of Magical Plants with over 180 entries. Each entry lists the plant's primary attribute, description, habitat, tips, warnings, and magical information. The remainder of the book focuses on information for those new to magical gardening, the intricacies of designing a magical garden, and several different types of garden the reader may wish to create for themselves.
The Charmed Garden is highly instructive yet easily understandable. Be aware that it is not a how-to book on gardening, but it will certainly help the reader construct their own gardens to be even more magical. This book was a great inspiration to me -- I am already eagerly planning my next garden.
~ review by Jennifer Erwin
Author: Diane Morgan
Findhorn Press, 2004
pp. 204, $15.95