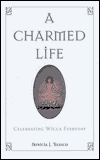 I have not always been a fan of Ms. Telesco's writing. She tends to make grand statements that are not always supported by facts. She also has a habit of creating things on paper– magickal and mundane– that are not terribly practical in real life, and I am a very practical person. Nonetheless, I have always admired her easy-going style of writing and her ability to describe complicated information in a fairly simplistic and accessible manner. As a result, my reading of A Charmed Life was from a skeptic's point of view, because the cover promises to "positively and magically rebuild ourselves, our living spaces, and our everyday lives without burdening our already busy schedules." This is a very tall order, one I did not expect to be fulfilled.
This is a wonderful book.
The reader is first shown how to make internal changes, small moments taken to notice things in our surroundings, to appreciate the quiet times and to reacquaint ourselves with simple pleasures. Only after making the inner adjustments are we then taken out into the larger world. I found many of the exercises to align the inner and outer aspects of ourselves to be new as well as interesting to do. Her advice on coming out of the "broom closet" was fresh, as was the advice to young adults about living pagan while still at home.
The information on gardening would require the most time to actually do all of the things she suggests. I'm not much of a gardener, so the specifics of her recommendations were lost on me (those things just did not appeal). However, her advice for transforming herbal crafts and cooking into magickal experiences would require no extra time or preparation, and I very much enjoyed them. My favorite chapter included a section on "How to Sue Your Spirit Guide." This is a level-headed discussion on how to spot fakes and frauds when you go to purchase your magickal accouterments. In a delightful move to incorporate the mundane into our magickal life, she then goes on to point out the wide variety of non-traditional sources of magic for our use– including electric appliances.
In many ways I am a typical person with a very busy life. Sometimes practicing my pagan beliefs seems like it would be too much work, take too much time. Ms. Telesco succeeds magnificently in making "A Charmed Life" seem possible, even within a busy life full of non-magickal distractions. Written with humor and knowledge, this book is a pleasure.
~ review by Lisa Mc Sherry
Author: Patricia J. Telesco
New Page Books, 2000
pp. 192, $12.99