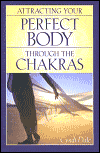 Author Cyndi Dale has been a favorite of mine for several years now (see my review on this site for Advanced Chakra Healing: The Four Pathways Approach to Shift Healing, my other reviews have been published in other forums). Her work is solid, well-thought-out, and lacks the 'fluffy' aspects that much new age writing can tend toward. Attracting Your Perfect Body Through the Chakras is not as great as her other works, I am sad to say.
The theory is sound: attune yourself to your highest potential by working with your chakras to clear and resonate with them at the highest possible level. But the training to do so is lacking. I've been working with my chakras for years (decades, even) and I'm pretty good at it. But I wouldn't have learned to do so from reading this book.
Nor did I learn to specifically address my weight issue(s). I know I need to not overwork and be stressed to be healthy, but I like having money and my joy-filled occupations do not pay. Ms. Dale's advice is an amalgam of nutrition, exercise, affirmations, and medical advice – none of which she is actually qualified (i.e. trained and or licensed) to provide.
That said, if the reader were to use this book in conjunction with others, such as Bloomfield and Cooper's The Power of 5, and the Gurgevich's Self-Hypnosis Diet I think the combination would be powerful.
~review by Lisa Mc Sherry
Author: Cyndi Dale
Crossing Press, 2006
pp. 138, $9.95