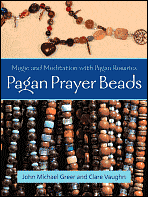 Not since Erynn Rowan Laurie's
A Circle of Stones
has there been such a complete book on pagan prayer beads. Whereas Laurie's work focuses primarily on a Celtic interpretation, Greer and Vaughn's book takes a broader (though equally excellent) approach.
Everything you need to make a pagan rosary (other than the beads and supplies themselves) is in here. The authors start with a wonderful introduction to the concept of prayer beads and how they may be integrated into a neo-pagan setting that taught me some things I hadn't known. Subsequent chapters deal with the basic mechanics of creating a rosary, from color, size and material of the beads involved, to what sort of design and intent you may want to incorporate. The book is well balanced between spiritual and practical considerations, covering both correspondences and basics tools with good detail.
There are also some sample projects, with a nice array of photographs of completed rosaries. Fortunately, the authors also give some ideas on how to alter these designs to your own specifications, rather than expecting you to dogmatically churn out the same thing regardless.
The writing is excellent, and is approachable by readers of any experience level--even teenagers should have no problem with this text. Experienced beaders and/or magicians may find some of the material to be familiar, but for those who are new to crafting, this is a great guidebook for neat magical projects. This would be an excellent gift book!
Highly recommended.
~review by Lupa
John Michael Greer and Clare Vaughn
Weiser Books, 2007
190 pages, $16.95