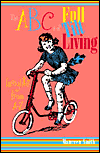 How can we change our attitudes, manage our stress, and live more fully? With the massive amounts of information available, it is easy to become overwhelmed. Here is a book that is easy to carry, easy to read, and gives valid ways to begin (or continue) to live more fully.
Maureen Smith's The ABC's of Full Tilt Living was written in response to client's requests to show them how to make choices that would put them more in charge of their lives. This is a handy and concise book, which provides concrete methods to improve your attitude and therefore, the quality of your life. Written in a fun, conversational tone, it is a follow up to her first book Full Tilt Living.
The ABC's of Full Tilt Living gives the readers twenty six playful ways, one for each letter of the alphabet, that will launch you towards full tilt living. Most of the exercises are fun and instructive. Some are very simple, like choosing an 'S' word to call yourself for the day ("Sizzling" "Superior" "Star"). Others take a bit more effort, such as working with images to visualize your goals (Lucky). Some of the exercises will be familiar to those who've read other motivational books, such as Creative Visualization by Shakti Gawain.
I enjoyed this book, it was very upbeat without being "perky" and I would recommend it to someone seeking an initial book on the subject, or someone looking for quick and effective ways to get a little boost in their lives. It provides something more than the "basics", but is still easy to read, understand and use.
~review by Karen Phillippi
Author: Maureen Smith
Red Wheel/Weiser Inc., 2003
pp. 152, $12.95