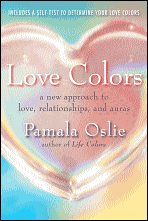 Pamala Oslie is the author of two previous books (Life Colors and Make Your Dreams Come True) both of which were well-received. With Love Colors, she has given us a new approach to the relationship dynamics between various life colors (auras), and offers priceless insights into the interior processes of each color.
The book reads well and held my attention from start to finish (and I'm not one who usually enjoys reading about things like auras). Fortunately, we are not required to actually see the aura, a fairly simple self-test will determine your aura and therefore the aura colors of those most compatible with you. The book also offers a wide range of tips for locating, recognizing, and attracting an ideal partner; numerous ways to move past personal fears and be open to love; and serious advice on achieving harmony, balance, and sincerity in a personal relationship.
Those readers interested in auras and related material will likely be delighted with this well-written book. The author does a good job of sharing a great deal of information about auras and seems to be candid about the limitations and potential pitfalls of working with them.
For most of us, however, this is a better book for understanding our selves and our interactions with others. Clearly, by using the techniques offered and doing the work to achieve a better understanding of our needs and compatibilities, we can transform how we interact with one another.
Recommended.
~review by Lisa Mc Sherry
Author: Pamela Oslie
New World Library, 2007