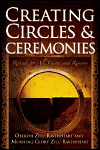 The culmination – and accumulation! – of decades of writings covering seemingly every aspect of rituals, mystery plays, circles, ceremonies, rites of passage and magickal workings. Bottom line: this is a priceless resource for anyone who is organizing, conducting or writing a ritual. Creating Circles & Ceremonies provides ideas, themes, symbolism, information, theory, and practice to bring a sense of the sacred into everyday life.
The wealth of information herein is divided into three sections: Book I outlines the basic theory and practice of creating ceremonies, such as creating sacred space, calling the quarters, invoking spirits, deities, or helpers, and basic ritual etiquette. Book II describes ceremonies for all occasions, including rites of passage, marriages, and initiations. Book III: then applies these principles to the eight seasonal holidays that mark the solstices, equinoxes, and cross-quarter days of the year. The Appendices contain information you will use as a reference for years to come.
I'm not going to waste anymore of your time. Get this book. Read it. Learn.
You can thank me later.
~review by Lisa Mc Sherry
Authors: Oberon Zell-Ravenheart and Morning Glory Zell-Ravenheart (and many contributors)
New Page, 2006
pp. 288, $14.99