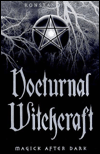 Despite the goth-style cover and typeface, Nocturnal Witchcraft is an attempt to seriously address the "dark" side of witchcraft. Unfortunately, it does not do a very good job.
The book begins with a somewhat facetious attempt to divide people into one of four soul-types based on whether they are Light or Dark practitioners (which is meant to be a neutral term) as well as whether they are Good or Evil (each of us is either Light-Good, Light-Evil, Dark-Good or Dark-Evil). Konstantinos tells us that this book is written for the Good-Dark people, but then avoids describing who they are, because "you know what good-dark means through personal experience." Unfortunately for the author, as a long-time practitioner of magic, and a Wiccan, I found that I identify with many of the teachings he describes as being good-dark, but would never call myself that for a variety of other reasons.
I did like the author's style of writing; it communicated a great deal of information in a personal manner that read well. I also liked his emphasis on the power of personal choice and clear guideline of the ethics of working magic. For example, he reiterates throughout this book that to draw one's strength from the night is not at all the same as intending to do dark deeds. This guidebook might be regarded as a magickal primer except that the rituals are all night-based and primarily, but not exclusively, focused on the pagan pantheons of Egypt, Greece, and Sumeria.
In the end, this book feels like an attempt to create a new Tradition by making it appear that deep exploration of the dark side of one's self and the Divine is never found in other spiritual paths. I would disagree, as would many others. If you are called to explore the dark on your own, I would recommend Timothy Roderick's Dark Moon Mysteries and/or Gail Wood's Sisters of the Dark Moon instead.
~review by Lisa McSherry
Author: Konstantinos
Llewellyn Publications 2002