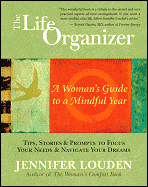 The comments by Dawna Markova, on the back of this book state that it is "a more intuitive, more grounded way to guide your life".
Even after reading that, I still thought it would be sort of a "day planner", a way to organize my life more efficiently. I found that my opinion was severely limited as regards this book.
The author, Jennifer Louden, writes that she "created this method after trying to squash my life into organizing systems that didn't fit and didn't help."
If you're looking for an Instruction Manuel, this book won't suit your purpose. It's more of a guide for a never-ending journey. By learning how to organize your life, organizing your day or your week becomes easier. You actually learn to "life organize in the moment".
The method Ms. Louden used to organize her life is based on five steps. The steps are, connect, feel, inquire, allow, and apply. She explains these concepts and how we are supposed to use them. The Life Planner included in the book further leads and guides one on how to use these steps.
The Life Planner consists of fifty-two weeks of what the author calls, "mindful planning". The Life Planner covers 136 pages in the book and you can write in those pages or make your own Life Planner using it as a guide. Ms. Louden gives suggestions for doing both. She also provides tips to help you remember to use the planner daily.
For each week, we are given questions and fill in the blanks statements to use as tools. There are no correct answers. These tools are designed to help us learn how to think and feel in ways differently than we do now. At the bottom of each page there is room to write notes for each day of the week, if we choose to.
I found that these questions and statements actually did cause me to think about people, events and things in general, in ways that I had not before.
To give you an idea of how it all works, some of the questions and statements are:
What basic need could use some attention?
What do I choose to take responsibility for today?
What would it feel like to nurture someone I love this week by_________?
What would I like to be free of this week?
I'm satisfied with______.
Though The Life Planner itself is a large part of this book, it is also filled with the author's help to set your intentions, minimum care requirements for yourself and much more.
Throughout the book are "Stories for Along the Way". These are stories of real people and how they overcame various difficulties. Some of the stories I found helpful and some just interesting.
Jennifer Louden's websites and the on-line community of Life Organizer users support the ideals and practices in this book. She invites us to join her on the Internet to share with her and other users regarding our breakthroughs and our challenges.
I'm not sure how much actual writing I'll do in this book, but I am sure I'll continue to use the questions and guides in it. I found many of the questions extremely thought provoking. I believe that most people will be able to find useful guidance to improve their lives in the pages of this book.
~review by: Jae Napolitano
Author: Jennifer Louden
Publisher: New World Library
pp. 247, $19.95
Website:http://jenniferlouden.com/