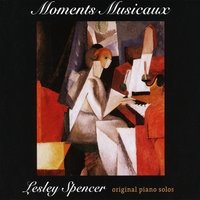 Moments Musicaux is Lesley Spencer's tenth full-length CD, and it shows. There are a lot of artists who bust their humps to manage one musical style, but on this album of solo piano compositions (she both writes and performs) Ms. Spencer shows herself to be adept at a wide variety of styles, mostly with great success.
An accomplished composer whose work appears in numerous soundtracks, the music on this album is often beautiful without allowing itself to be relegated to background music- you can, but if you pay attention to nuances such as the subtle time shifts you'll be rewarded. Her Piano Suite II, in particular, is a fully formed composition that speaks in a uniform voice even though the accent changes from movement to movement. The "Raison d'Etre" of the album isn't, really, but in some ways it's the meatiest composition on Moments Musicaux. If I was trying to use this album as background music I'd leave this track off the playlist – it draws your attention in.
"Fellini Waltz" demonstrates one of the few places that Ms. Spencer falls down. The sustaining beat of a waltz has to have some sort of particular character in order to interest the listener; you can have sad waltzes, dance (obviously) waltzes, angry waltzes, even off-kilter waltzes that sound a little bit mad; I'm looking at you, Ravel. Ms. Spencer's Waltz, however, has no character beyond a student's desire to keep the time. She's no student and clearly this piece is nowhere near her technical limit, but that's the impression left. Interestingly, her "Little Jazz Waltz" in the Piano Suite II works just fine, so it seems to be just the one piece. Still.
A certain type of shopper might see the "Ode to Harry Potter" and feel an immediate compulsion to snap up this album; another type would similarly shun it completely. As a disappointment/encouragement, let me just say that it's a lovely piece that doesn't so much recall the books/movies so much as use them as a jumping off place.
If this review seems overly contemplative, well, that's what Moments Musicaux does to you. I recommend it without reservation, particularly if you like to invest some time into what you're playing.
~review by John Casker
Artist: Lesley Spencer
Gabriella Music, 2008
CD, 57 minutes, $16.47
editor's note: Please also see our review of Leslie Spencer's Postcards from Spain .