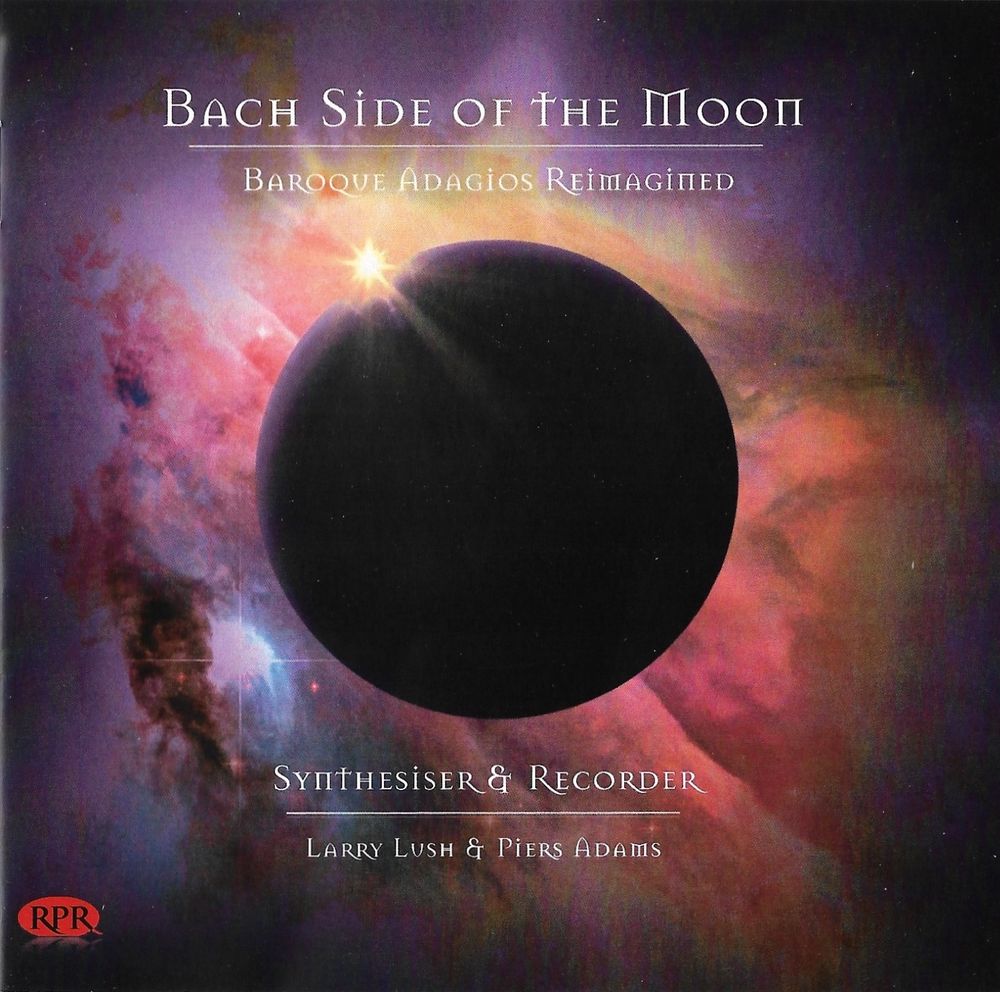 As a life-long J. S. Bach and classical music fan-girl, it was thrilling to listen to this CD. Piers Adams (recorder) joins synth-master Larry Lush to create new performances of classical favorites with a 21st-century twist. Songs include pieces by Bach, Handel, Vivaldi, Purcell, and Gluck. Adams plays the melody on the recorder, sometimes adding harmony parts, while Lush (aka Laurence Elliott-Potter) provides the underlying accompaniment with synth. The result is a dreamy, updated take on some of the world's greatest composers.

It's clear that something new and different is happening as the album begins. The introduction to Track 1: Siciliano (BWV 1031) is a lovely cloud of electronic textures that's soon joined with the haunting recorder melody. The electronica-ambient introduction to Track 2: Adagio (Albinoni Oboe Concerto Op 9 No 2) is even more pronounced. A combination of electronic keyboards and shimmering FX underpin the melody. The stately Adagio (Track 03, Vivaldi, Oboe Concerto RV 452) offers a fuller texture with an alto recorder. Track 5: Largo (Handel, Trio Sonata Op. 2. No. 1) takes the composition to a very 21st century-inspired rendition that Handel could have never imagined but probably would have liked.

The inclusion of "Dido's Lament" is intriguing (Track 6, from Purcell's Dido and Aeneas). The chromatic bass line is expressed by a spooky-effects synth. As the recorder takes the melody, the spooky bass is joined by a synthetic string section and organ. Track 7: "Eternal Source of Light" (Handel, from Birthday Ode for Queen Anne) shifts the pace with a gossamer musical tribute. Multiple recorder tracks glide over the synth accompaniment. Another surprising choice is Track 8: Dance of the Blessed Spirits. This piece is from Gluck's 1774 opera Orfeo ed Euridice, featured in the 1774 re-write for Parisian audiences. This instrumental song is at the beginning of Act II. The scene is set in Elysium. This flute solo celebrates happy eternal bliss in the afterlife. It's a lovely piece that doesn't get performed nearly enough so its inclusion here is a treat. 

Additional songs include
Track 9: Cantabile (Vivaldi, Flute Concerto RV 428)
Track 10: Adagio (Back, Flute Sonata BWV 1020)
Track 11: Largo (Vivaldi, Recorder Concerto RV 108)
Track 12: Adagio (Albinoni, Oboe Concerto Op 7 No 3)
Track 13: Andante (Bach, Flute Sonata BWV 1034)

This album is a feast for listeners who enjoy classical music that's tastefully updated. It's wonderful music for entertaining guests or when working alone quietly. Some of the pieces are useful for ceremonial purposes. Entrances and exits in hand-fastings or initiations would be greatly enhanced by the stately Largos (Track 5 and 11) to add gravitas to a ceremony. The distinctive recorder is not often heard but is a lovely instrument beautifully performed.

~review by Elizabeth Hazel

Artist: Larry Lush and Piers Adams
Red Priest Recordings, Sept 2019
13 tracks, 56 min.
CD $18.99, mp3 $9.99.