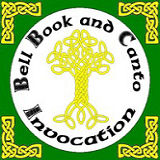 Wow. It's rare that I listen to a piece of music that raises the hair on my arms – but Bell Book and Canto's title song of their first album did just that.
The six members of this all-female acappela choir have created a spiritually uplifting and rich compilation of songs. Jenn Roth Mayes, Mia Jones, Susan Fisher, Stacy Lundy Vilchis, Amanda Calloway and Lisa Tyson have been performing live on their own since 2008, but this studio work sounds as if they have been together much longer.
"Invocation" is one of the best songs on the album, its quiet power transporting you into a ritual frame of mind. Circle Song is a faster song, accompanied by fingers snapping, and makes for a fun way to call the circle (perhaps by dancing?).
Fair warning: "I Heard the Valkyries Cry Last Night" is breathtaking. The rich voices weave a sorrowful counterpoint to a quiet piano's lyrical underpinning and the lyrics are enough to move you to tears. "Remember" follows it and keeps the quiet mood going.
Before you can start feeling too down, however, the ladies switch it up with the more complicated and faster paced "Doe you Not Know." Overall the tempo of the album is well-done, without jarring changes. The last song, "The Parting Glass" is a Irish-inspired paen that leaves you wanting more, yet replete with joy.
I certainly hope to hear more from these gorgeous voices. Highly Recommended!
~review by Lisa Mc Sherry
Artist: Bell Book and Canto
2011, self-published
http://bellbookandcanto.com/