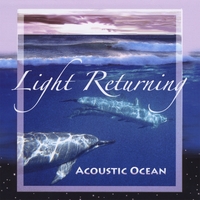 I've really enjoyed this CD. It's of a type of music beginning to be known as "holistic healing" and on the CD itself, as "Musical Meditations for Relaxation, Massage and Movement". Without a doubt, it is relaxing, but not likely to put one to sleep, because we tend to listen to the myriad of sounds.
There are six original melodies on this album with a total of one hour of music. Each piece is a blend of the Celtic Harp and various other instruments, along with vocals and sounds of nature. I confess it startled me to hear the crickets, but they blended in, too.
The vocals are an instrument in themselves. I spent a lot of time trying to identify actual words in the vocals, but was unsuccessful because I don't think there are any. But, in listening, one is sure they are just on the edge of hearing them.
This is good acoustic music played by seasoned musicians and blended perfectly. Be sure to visit the website to view the wonderful pictures that go along with the music.
~review by: Jae Napolitano
Artist: Phelan, Acoustic Ocean
Produced by: The Natural Health Source, Inc.
p. $15.00