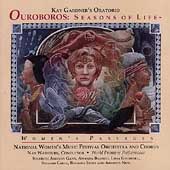 I was deeply moved by this powerful oratorio and long to be present at a live performance. Kay Gardner has given us a masterwork that honors and sacralizes the passages of a woman's life and celebrates the sea­sonal round of birth, death and rebirth. I wish we had sung music like this in high school choir rather than the ubiquitous Kyrie Eleisons and other "sacred" (patriarchal) choral pieces.
This CD captures the live premiere performance of this piece for six female vocalists, women's chorus and orches­tra. Each of the eight movements corresponds to one of the Eight Sabbats, which also align with the time of a woman's life. Thus we have an eight-year-old singing at Candlemas, a teenager at Spring Equinox, and so on to the Crone at Samhain.
The lyrics (solo pieces by Charlie Hutchins and chants by Ila Suzanne) are as moving as the music. The soloists are stunning, from the sweet tones of the maidens to the rich fullness of the "mother," to the craggy deep tones of the elders. The cover art by Ruth Zachary is wonderful too!
~review by Joanna Colbert
Artist: Kay Gardner
National Women's Music Festival Orchestra and Chorus
Ladyslipper Records