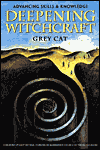 I have the good fortune of knowing Grey Cat through a mailing list we participate in. It's been about three years now, and I know that I will continue to learn from her until the day I leave this earth. With Deepening Witchcraft, Grey Cat extends her circle of knowledge to a new group, and you are all welcome to participate.
This is not a book full of amazing concepts and startling revelations. Sorry, but she means what her title says: this book is a deepening of our knowledge and our experience in witchcraft. It is full of practical, sensible, blessedly-grounded advice and assistance to the experienced Priest/ess. Although she does not in any way condescend to the reader, this book is not for newcomers to the craft. It is not that you won't understand; you just won't see how practical her advice is until you've put it to the test.
GreyCat makes herself clear about expecting leaders in the Craft to keep myth and history separate and to raise our standards of teaching and practice across the board. In particular, she argues that our priest/esses should be trained to the same high standards as the clergy of the mainstream religions.
The fact that she begins with a discussion of logic and analytical reasoning is enough to own the book for. When you add in chapters on ethics (which do not begin and end with "An it Harm None"), personal growth (including when to stop what you are doing to prevent burnout), teaching, holding events, organizing public rituals, speaking to the press. . .
If you feel you have moved beyond most of the Craft books available, or you are a leader in the Craft in any capacity, I highly recommend this book become one of your resources.
~ review by Lisa Mc Sherry
Author: Grey Cat
ECW Press 2002
pp. 360, $19.95