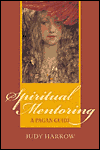 Judy Harrow has a gift for spot-on, sensible spiritual advice straight from experience. She has lived through several phases of Wiccan spiritual development and in that time has developed strong knowledge in what it takes to teach Pagan spirituality. She founds the book on the concept that pedagogy among Pagans needs more attention. Her book Spiritual Mentoring provides a clear set of techniques, self-examinations and recommendations of scholarly study for both teacher and student, all consistent with the sheer amount of experience Harrow has to offer.
Harrow draws from several compelling studies and models on psychology and spirituality to assist mentors in examining their students in stages of faith, maturity and motivation, noting that few, if anyone, can actually achieve self actualization or enlightenment within a lifetime. Particularly useful and impressive is Harrow's "spectrum of belief" model. This model identifies phases of faith ranging from absolute and literal belief to faith as an intellectual concept. Harrow suggests several exercises and meditations to assist a student in embracing shifts between these ranges of faith. Harrow also identifies values within a mentoring relationship, and strongly advocates that mentors perform the exercises they recommend to their students.
Judy Harrow has consistently contributed to the Pagan religious infrastructure, and Spiritual Mentoring adds even more to her body of contributions. This book, however, does NOT suit beginners, nor should it. Harrow addresses concerns of people who have practiced Wicca well past an initiation or two, and paves the way for a more thorough education of the teachers who open the pathways of Wicca to the large number of incoming newcomers. Harrow's book is a valuable and much needed contribution to the body of Wiccan literature; her writing and research raises the bar on quality in Wiccan/Pagan material.
~review by Diana Rajchel
by Judy Harrow
ECW Press, 2002
pp. $16.95