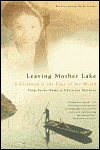 "My mother doesn't remember when I was born," singer Yang Erche Namu begins the story of her life. "All she knows, she tells me, is that I cried too much" (p. 3). Namu was born in the year of the horse (which they figured out was 1966) in Moso. Moso is one of the most remote parts of the world, a tiny area in southern China—near Tibet, between two curves of the Yangtze River, high in the Himalayas. It's an area we've never heard of. (Fortunately, they provide a map.) Families are matrilineal in Moso and the word "father" did not even exist in the language until recently. Whereas Namu describes how people actually lived in Moso, her co-author, Mathieu, an anthropologist, describes its history, which dates back to Kublai Khan, and bring us up to date on changes wrought by the Chinese. The Moso religion, Dongba, may have originated with the pre-Buddhist Bon religion of Tibet, and towering above the Mother Lake (which is itself at an altitude of 10,000 feet) is "the squat figure of the sacred mountain Gamu, the mother goddess who watches over the Moso people" (p. 273).
When Namu was a child in this matrilineal (but not matriarchal) culture, women owned the homes and took as many lovers as they cared to. They lived in large households where the grandmothers, mothers, sisters, and daughters cared for home and crops and the uncles and brothers tended the cattle in alpine valleys or joined trading caravans to Tibet and China. We would call conditions in Moso primitive—even in the 1970s and 80s, they lacked literacy, electricity, plumbing, and wheeled transportation (roads were almost nonexistent). Even though the People's Liberation Army and the Red Guard passed through in the 1960s, the people still lived as they'd lived since the 13th century. They were kind to each other, everyone had enough to eat, and life was good. Namu's mother had broken with tradition. Instead of staying in her mother's household, she had struck out on her own and established her own home in another village.
Changes come into Namu's life. Chinese officials arrive one day. They hear the Moso women singing and decide to take three of the girls to the nearest big city for an ethnic song contest. Namu gets her first ride in a Jeep, stays in a hotel with carpeting and indoor plumbing, and wins the song contest. She wins the next song context and visits Beijing, where she is dazzled by the modern world. Like her mother before her, she breaks the rules and runs away from home. Overcoming enormous obstacles (including a muddy trek through a stormy night along the edge of a cliff and a ghastly three-day train ride), she comes to Shanghai, where as a member of a minority, she wins a scholarship at the Shanghai Music Conservatory. During her five years as a student, she not only learns to read and write but also meets people from around the world. To help support herself, she gets a gig singing "decadent" Taiwanese music in a nightclub. Thus begins her career in the modern world. Thomas Wolfe wrote, "You can't go home again." Can Namu go home?
You'll probably have to search for this book on Google or order it from Amazon, but make every effort to find it. This is a book of such compelling veracity about a life so unlike anything a modern American woman can know that you won't be able to put it down. When we study goddesses, who do we find? Our Goddess studies are almost entirely Eurocentric. But what about other parts of the world? What about the so-called primitive shamanic religions and so-called primal goddesses? How do women live in parts of the world where the past is cherished and kept alive? Namu's story will open your eyes.
~review by Barbara Ardinger, Ph.D.
Author: Yang Erche Namu and Christine Mathieu
Originally published by Little, Brown, 2003
reissued in paperback by Back Bay Books, 2004