I cam across Pamela Colman Smith: The Untold Story at the end of 2020 and it is one of the best books I've discovered in recent years.
If you think you know who Pamela Colman Smith was, I can almost guarantee that you're wrong. Of course, you know she illustrated the Rider-Waite-Smith tarot deck, that's easy. She also wrote, illustrated, and published books of Jamaican folk tales. She created a mini theater in England where those tales were performed. In 1901, she established a studio in London and held weekly salons for artists, authors, and actors. All the while, she produced paintings, illustrations, calendars, and posters. Some of her first projects included The Illustrated Verses of William Butler Yeats (1898), and her own writings, including Annancy Stories and Widdicombe Fair (both 1899). For a while, she contributed regularly to The Broad Sheet, a literary monthly co-edited by Jack Yeats, before starting a paper of her own, The Green Sheaf, which she edited and contributed poems and illustrations in color. Her color schemes, inspired by listening to music, are strikingly intuitive and experimental, yet subsumed in a spectral light of intrigue and magic. I particularly like the part about her Music Pictures – Ms Colman Smith's practice of painting her visions she received while listening to classical music. As Smith wrote in "Pictures in Music": "When I take a brush in hand and the music begins it is like unlocking the door to a beautiful country […] with plains, mountains and the billowing sea."
The book opens with a section by Elisabeth Foley O'Connor focusing on Smith's life in Jamaica; her studies at the famous Pratt Institute; her emergence as a professional artist, then her life in England with details about her struggles and successes in publication.

The section curated by Stuart R. Kaplan is a gigantic gallery of Ms Colman Smith's art from her early years to her last commissions. No discussion, no comments, no unnecessary text. Just art.

Melinda Boyd Parsons's section is the most important for tarot enthusiasts. Titled "Influences and Expression in the Rider-Waite Tarot Deck," the chapter explained so many things and pointed out details I hadn't realized.

The final section is by Mary Greer and discusses how Smith's work influenced later tarot decks, how she has made tarot more accessible through creating distinctly illustrated pips; how tarot became a tool for therapists and an inspiration for many creators.


Smith's participation in the occult is documented through her membership at the Isis-Urania Temple of the Hermetic Order of the Golden Dawn starting in 1901, which studied the occult, metaphysics and the paranormal. Introduced to the Order by W.B. Yeats, she came to the attention of the scholarly mystic and poet, A. E. Waite, who eventually commissioned her to do the Deck in 1909.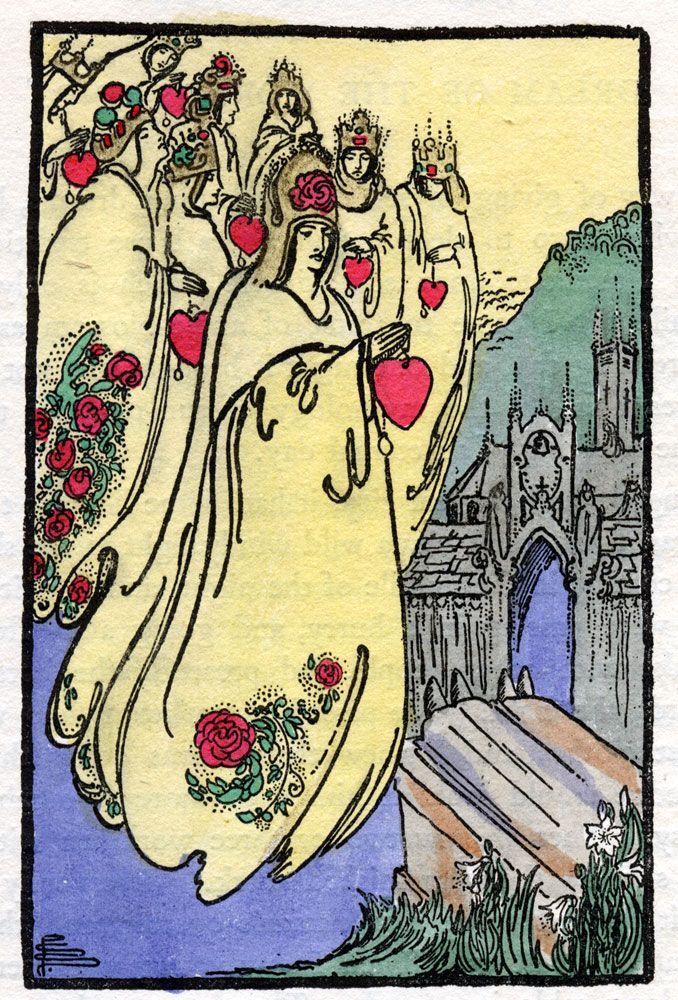 Sadly, despite her early fame and determination, Smith slipped onto obscurity. She never achieved the financial security she desired, nor the recognition she deserved. Smith was experimental, interdisciplinary, and collaborative long before any of them were fashionable — an intelligent, worldly, and independent thinker with prodigious talent. Still, she died penniless and un-celebrated at the age of 73 in Bude, England. Had it not been for her iconic signature, which she designed while still a student, her name might have been lost forever.

This is an incredible addition to your tarot library. It is a large book (10.3" by 2.2" by 13.5") and includes:
(1) more than 400 color pictures of Pamela Coleman Smith's non-Tarot work
(2) excerpts from her personal documents, correspondence, portraits and photographs
(3) rare archival material from leading museums and libraries (4) an extensive bibliography
(5) essays on the events and people in her life (such as Bram Stoker and Ellen Terry), and (6) a chronological survey of her folktales, art and poetry.

It is a large hardbound book, lavishly illustrated and annotated. The price point makes it a huge value.
RUN and buy this book.

~review by Lisa Mc Sherry

Authors: Stuart R. Kaplan, Mary K. Greer, Elisabeth Foley O'Connor, and Melinda Boyd Parsons
U.S. Games, 2018
pp. 440, $45