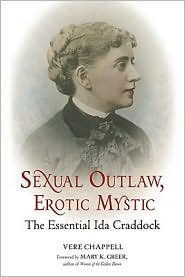 Sexual Outlaw, Erotic Mystic; The Essential Ida Craddock is a well written and excellently researched biography of the life of Ida Craddock, a persecuted spiritualist and sex educator.  Written by Vere Chapell, this 258 page book includes not only a thorough bibliography, but detailed references and actual letters, diary excerpts and suicide letters.  These not only make the book reliable, but also let the reader have an all-encompassing view of Craddock's life and the trials she was forced to experience.
As well-written as this book is, it's not for your average layperson.  If you have no familiarity with the subject matter in which Mrs. Craddock was involved in, it may be a difficult read.  At the same time the book is very engaging, if not exciting to read.  When reading I found myself incredibly engrossed, excited and curious as to what Mrs. Craddock would do next.  However, once I had to put the book down I found it very difficult to pick up again.  For me, this was a book to either read all at once, in one sitting, or not at all. 
If you're interested in the subjects that Mrs. Craddock was engaged in, as well as interested in Mrs. Craddock herself, then this book is for you and Chappell did well by Mrs. Craddock in her thorough and unbiased account of her life.  However, if you are not that person, I would then pass this book up and continue looking.
~review by Jessica Elizabeth
Author: Vere Chappell
Weiser Books, 2010
pp. 258