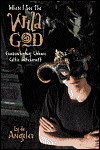 Many of the books reviewed within these pages have a strongly feminine perspective. When I See the Wild God leans much towards the masculine. It does not seek to diminish the importance of the divine feminine, but to offer a complementary view of the masculine in order to provide balance. I think this book can have great value for anyone with an interest in Celtic witchcraft – man or woman.
The book focuses on presenting to the reader a Celtic perspective of sacredness and how we can bring more fully into our lives. Plenty of information is included on the Celtic view and treatment of the elements. The author also includes rituals, invocations, and visualizations for each of the Sabbats, all of which have a strongly Celtic influence. Unlike most other books I have found on Celtic practices, this one includes pronunciation of many of the Celtic terms and phrases used.
When I See the Wild God is a very personable book. It easily engages the reader's attention and is written in a way that makes it easy to relate to the author. At the same time, the book is quite complex and filled with plenty of useful information. I truly enjoyed this book, and I believe it would be useful to anyone interested in modern Celtic magical practices, regardless of their level of expertise.
~review by Jennifer Erwin
Author: Ly de Angeles
Llewellyn Publications, 2004
pp. 218, $12.95