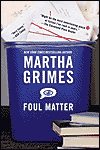 As every writer (well, except maybe the most naïve and the most self-obsessed) knows, publishers are nasty, greedy bastards who do everything in their power to screw writers. Publishers—and editors and agents—don't care about how good our work is. They have no idea of elegant syntax. All they care about is the bottom line.
If you accept this proposition, then you'll love Foul Matter. Martha Grimes, who is the author of the Richard Jury mysteries, had a fairly nasty run-in with Knopf a couple of years ago. They dropped her books. The episode was discussed by Pat Holt in her e-newsletter, Holt Uncensored (www.holtuncensored.com), columns 373 (3/21/03) and 374 (9/5/03). You can look it up yourself.
Being both angry and adroit, Grimes decided to get even, so she wrote a novel that the reviewers actually in New York tell us is a roman de clef. Even if we don't recognize the names and the clues, however, the book is a hoot to read. One publisher is called Queeg and Hyde. Another is American Dreck. The plot is labyrinthine and literate at the same time. An ambitious writer tells an acquisitions editor that if he wants his next book, he (the publisher) has to break a prize-winning writer's contract. The acquisitions editor (who hasn't actually edited anything in a long time) gets in touch with a gangster who is supposed to be in the witness protection program for having written a tell-all mob book. The gangster, who is writing another book, puts the editor in touch with two hit men. But the hit men don't kill just anyone; they have to get to know the guy first, find out if he's worth whacking. So the hit men buy—and read—the novels by the two writers in question. (At one point, they consider switching books and just telling each other about the second half of each book.) Meanwhile, everybody's listening at doors or following people or trying to impress and nobody is actually doing any writing. Grimes gives us editorial assistants, agents, an editor who really edits, participants in power lunches and writers' retreats, poets, a red-haired P.I named Blaze Pascal, a horror novelist who is a horror himself … and then half the crew goes to Pittsburgh.
No matter what you write, you probably want to see your prose in print. Between covers. That means you'll probably have to deal with a publisher (and maybe an agent) at some point. Writers, before you try to swim with the publishing sharks, read this book. When you stop laughing, you may decide to take up woodworking.
~review by Barbara Ardinger, Ph.D.
Author: Martha Grimes
New American Library, 2003