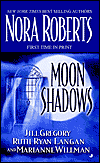 Moon Shadows is a collection of four novellas in the romance genre, lead­ing off with Nora Roberts' "Wolf Moon." I have to admit that the descrip­tion I read of it- a young woman is bit­ten by a werewolf and later falls in love with a veterinarian who hopes to cure her- alone compelled me to buy the book, just to find out what this story could be about. As in all romance nov­els, if you can just suspend judgment and block out reality for a time, the tale can be most entertaining and even amusing. I also happily noted that the heroine appeared quite capable, and instead of being a victim, look an active rather than passive role in her dilemma, both romance-wise and were wolf-wise. After all, she builds herself a medical lab in her cellar and becomes quite adept at taking her blood samples while treating herself without a degree as a medical doctor!
Yes, I'm guilty, I did enjoy the whole book. Each novella has the word "moon" in its title, though as the book neared the end, the stories became less and less about the moon, Roberts' "Wolf Moon" is the only story set in the present time- the rest are in days gone by. Jill Gregory's "The Moon Witch" is about the good but naive witch Gwynna, who must do psychic battle with an evil sorceress in a forsaken land where no one has ever come out alive. Of course, it helps that she has the handsome what's-his-mime with her. All the men are handsome, and in fact, it is easy to forget their names, which is perhaps one of the fun things about reading romance novels.
In "Blood on the Moon" by Ruth Ryan Langan, there are strange goings-on in the Scottish Highlands, with a recurring focus on what might befall the clans on All Hallow's Eve (note: it turns out to be beneficial). And Marianne Willman's "West of the Moon" is indeed a fairie-tale, which is much more than a nod to Thomas the Rhymer, later on in the plot, the story of a man stolen away by the fairy folk is indeed spelled out to the reader.
All of these could have been stretched out to full-length novels. In fact, I would liken the book to a Whitman's Sampler™ of chocolate- inexpensive, good selection, and a small indulgence. Warning: because the stories are so truncated, it seemed that the denouement of each one happens so fast, if you blink you might miss something. Warmly recommended to the right type of reader.
~review by Diane Saarinen
Author: Nora Roberts and others
Jove Books 2004
375 pp., $7.99