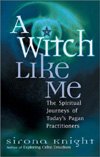 Have you ever wondered why some of the 'Big Name Pagans' left the mainstream of society and became pagan? A Witch Like Me is a fascinating exploration into the why and how of the choices made by some of the biggest names in modern Paganism.
Written in the words of the Pagans themselves, the reader is given a glimpse into the motivations and experiences of an eclectic gathering of Pagans, including the author herself. Each was asked the same 20 questions, ranging from 'When did you know you were a Witch?' to 'Do you feel you are "a mover and a shaker" in the Wicca Movement?' Although every question is not answered by each person; the reader is nonetheless treated to a variety of cohesive accounts of the life journeys of these amazing people.
This was a difficult book to criticize -- it is hard to say much about another's choice of life after all. I did find that the overall political feeling of 'being a witch is a test of courage' was not to my taste. Then again, I am not an activist in Wicca, and I prefer to live my life fairly quietly, so I have not felt much in the way of discrimination due to my religion.
There are no secrets revealed in this book, and very little juicy gossip, which makes it all the more likeable in my opinion. I found the stories wonderful, the writing personable and would recommend this book as a happy addition to the reader's library.
~review by Lisa Mc Sherry
Author: Sirona Knight
New Page Books, 2001
pp. 240, $13.99