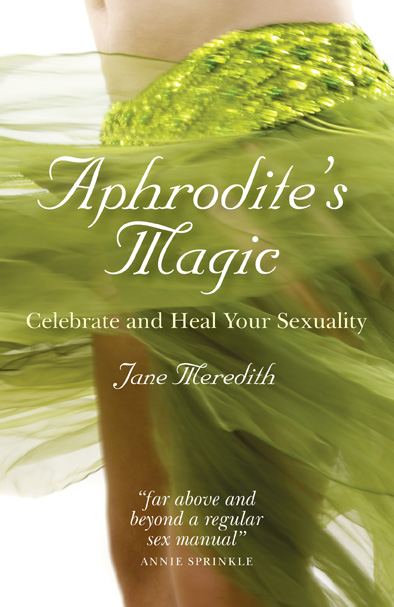 One of the great gifts of our time comes directly from the sex-positive movement arising among men and women both Pagan and non. One of the great tragedies of our time is that we need this sex positivity more than ever. We break the evil spell that keeps us silent and accepting of outright sexual abuse as well as social sexual abuse by talking about sex and pleasure in new ways.
While this movement started with Dan Savage, a visionary for his own generation, but a man of limited mind for the next, it is now appearing among men and women, once again the idea that sex is not just holy but that pleasure itself is sacred. In the prayer of pleasure, both shared and alone, we find ourselves obligated to heal our own wounds. In this effort, we have the gift of Aphrodite's Magic.
Jane Meredith leads us afresh to positive sexuality for women. She neatly escapes the trap of partner/male pleasing as a pathway to the sex-positive by encouraging participants to make pleasure internal, and sets forth the revolutionary idea of pleasing the self and taking pleasure in the self, first. This permits a woman to divorce herself from the approval-seeking aesthetic that dominant culture demands.
Guided meditations, journaling exercises and body movement all provide tools for a seeker to re-vision beauty. Meredith then shows her readers how to claim and use their voices, know their heart, face their fears and live in their bodies. The subtle pathwork is simple and fearsome, leading to a woman owning her sexuality completely.
This book is experiential rather than academic and belongs on the shelves of those who like to read and then do. Meredith's written voice leads her readers to delight, and the exercises leads those willing to brave them to real healing. An excellent primer for the sex-positive and those who wish to be: this book may well be the place to begin when it comes to exploring new attitudes in sex and sex magic.
~review by Diana Rajchel
Author: Jane Meredith
O Books, 2010
pp. 169, $24.95