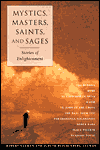 The authors of this wonderful book share the enlightenment experiences of a number of individuals (both male and female) who, in the authors' words, "were not fully awakened at birth but went through a describable process of transformation."
In their introduction, they define what enlightenment is and how and why people get there, as well as delineating the more common characteristics of the enlightenment experience itself. They also tell why they included these particular stories (some people prefer to not talk about their experiences). Then there are outright space limitations, which, as the authors suggest at the end of the book, they may solve in subsequent volume(s).
The selections are chronological by birth date of each individual; some are universally known, but many are not (except to their immediate followers and spiritual seekers of the obvious depth of these authors). Each section begins with an introduction of that person, and follows with his or her story of enlightenment, drawing from writings, autobiographies, and interviews with those still living.
Some of these people underwent intensive, intentional spiritual practices; others were spontaneously awakened. However, as His Holiness the Dalai Lama reminds us in his foreword, "It is important to understand that each of these saints and sages was born an ordinary person" and "that the illumination of the mind is a universal phenomenon," belonging to "all races and religions, even among people who have no religion."
Savor this book you would fine wine, in small doses, and let these stories lead you to that place where words have no meaning and no necessity.
~review by Lisa Mc Sherry
Author: Robert Ullman and Judyth Reichenberg-Ullman
Conari Press, 2001
pp. 286, $16.95