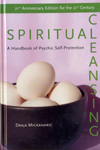 Almost all cultures have a variety of rituals and recipes for ridding the individual of the grey or negative energy effects one often picks up in day to day living. Draja Mickaharic's Spiritual Cleansing- A Handbook of Psychic Self-Protection provides some of these methods. Mr. Mickaharic immigrated to the United States from Bosnia and has been practicing magic for 45 years.
The majority of the cleansing rituals presented are from a variety of cultures, and have been passed down from generation to generation. The author explores many practices, including protection while asleep, cleansing with water, with herbs, and with incense. Techniques are also given to quiet a house and to quiet a mind. Each chapter begins with a short explanation of how or why a process is used, then followed up with a series of rituals, rites or incantations. There are ample references to Christian cleansing methods, referenced with biblical quotations.
The techniques in this book may provide a framework for the interested person to build on. If you are most comfortable working within a narrow framework, this book will provide some useful methods. I found the final chapter on choosing a spiritual practitioner extremely well-thought out and presented, and was possibly the most valuable aspect of this book.
The author is adamant against any deviation from the presented materials, and some may find this book a bit dated in its approach. Although it is the 21st anniversary edition, it did not indicate that it had been updated. However, as the author points out, in 1982, there were few books available on spiritual cleansing, and this book would certainly have been a valuable resource to a seeker at that time.
~review by Karen Phillippi
Author: Draja Mickaharic
Weiser Books, 1982, 2003
pp. 119, $12.95 US