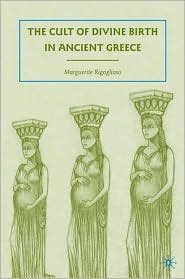 I had the opportunity to meet Marguerite Rigoglioso at WECSOR 2008, an academic conference in California. Rigoglioso is a promising researcher of Goddess Studies who, thankfully for me, shares my interests. I read Rigoglioso's dissertation for the Ph.D. degree from California Institute for Integral Studies, which Palgrave Macmillan will release as the The Cult of Divine Birth in Ancient Greece in late April, 2009. Rigoglioso explained to me that dissertations are rarely published and sold because of their high production cost. I am grateful that Rigoglioso has made her dissertation obtainable because it is an enjoyable read.
Some similar books I often think of as resources. I might like a copy on my shelf or in a library to find a specific reference by searching the index. I actually recommend reading The Cult of Divine Birth in Ancient Greece from cover to cover because it is interesting, and its chapters well placed.
The Cult of Divine Birth in Ancient Greece is valuable because its new information advances the field. Rigoglioso's dissertation shares similarities with all research on the Great Mother, but is unique because of its exclusive focus on parthenogenesis. This book adds to Pagan thealogies of motherhood with new insight and ideas.
Reading the dissertation, I felt as if I were reading a holiday letter from close friends. The divine family became Uncle Hades, Stepmom Hera, and Godfather Zeus.
While Rigoglioso introduces new ideas, I did not find anything beyond credibility. Rigoglioso balances the professional needs to contribute new ideas and to remain in conversation with current theories. Her book will captivate scholars and Pagans (and Pagan scholars).
To evaluate the significance of the work, I will turn to one of Rigoglioso's own points. In Chapter 15, she writes, "Is parthenogenesis something women should be investigating to reaffirm their own biological and spiritual authority?" (p. 546) Rigoglioso's question concerns the current Goddess worshiping community: the impact of Goddess worship on women's spiritual authority. Parthenogenesis is one practice that might separate women or the feminine divine from masculine. Rigoglioso wants to know what powers women have and how Goddess spirituality can restore them to power in society.
I anxiously await Rigoglioso's second book Virgin Mother Goddesses of Antiquity scheduled for release in July 2010.
~review by Michelle Mueller
Author: Marguerite Rigoglioso
Palgrave Macmillan, 2009
292, $79.95