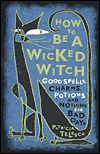 While the title might be off putting to some who want to shy away from that image, Telesco uses humor and irony to handle real life situations. Telesco gives an amazing way to deal with real life good and bad days Her attitude is perfectly expressed on page 18: "From this point forward we will no longer fall victim to viscous circumstances, react hastily to another's jibes, be a wallflower or act like a wimp." This is a wonderful declaration of who you are or want to be. Telesco steps away from the overused image of the white goody two shoes witchcraft expressed in most books, which tell you it is wrong to protect yourself from other people doing you harm. This book is a wonderful declaration that sometimes the right action is to be protective of self and mirror a person's negative energy back to them.
"Our goal in developing witchery is to become alert, aware and fully present in our lives so we can outmaneuver the things that could derail us (page 21)." Telesco is offering a way to become fully present in our own lives, which assist us in taking back the power and responsibility for ourselves. She offers an empowering philosophy for the reader to make conscious choices and decisions while taking the responsibility for these choices and decisions. Telesco leads the reader to a more positive life by insisting we take on the responsibility of our own choices. She points out the satisfaction and power in taking responsibility.
Telesco gives ways to do divination using every day objects and gives very practical advice on how to do certain types of spells. Throughout the book she is tongue in cheek with her information making the reader chuckle out loud. She isn't full of herself – like I'm an all powerful witch so beware – but more like hey I can and will do what I need to do for what's best for me.
This is a light but informative book to read. This book should be in every Witch's library. She pokes a bit of fun at herself as a witch but also offers some very empowering tips and advice on how to handle those bad days.
~review by Eileen Troemel
Author: Patricia Telesco
Fireside, 2001
pp. 208, $12