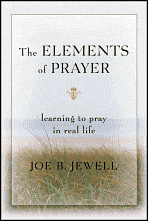 This interesting and well written little book is inspired by Strunk and White's Elements of Style. In this book, Joe Jewell does a magnificent job of bringing down the sometimes arduous task of composing, writing, saying and simply just doing a prayer.
There are five chapters and a summary chapter, plus a bibliography and index. The book is easy to use and written in simple to understand everyday language. Jewell's tone is easy going and friendly, as if he were talking to you from across the kitchen table. However, he never condescends or belittles the reader. His information is sound and very user friendly for anyone of any faith.
In Chapter One Jewell, a Methodist minister, introduces us to how much he admired Strunk and White and decided that was the easiest and best format to place his little book on composing prayer. Jewel explains that this text is not meant to be an exhaustive discourse on the topic for prayer, but simply a foundation of how to compose a prayer, either orally mentally or in written form. It is also a means to use prayer effectively in one's daily life.
Chapter Two gets into the meat of the book by gently instructing us on the rules of prayer usage. These brief rules are pretty much self explanatory, however, Jewell does provide a brief explanation by using personal anecdotes and good common sense. Some of the rules include
Praying for yourself
Pray for your concerns
Pray for what counts
Pray for direction
Pray for what you seek
Chapter Two involves the principles of composition. Again, in friendly easy to understand dialogue Jewell teaches us how to choose a suitable design for a prayer, making the paragraph, the unit of composition. He advises us how to use an active voice in both the spoken and written word, and most of all to emphasize what is most important.
Chapter Three explains the meaning of matters of form. Some of these concepts are difficult to understand to the lay person even though they are familiar terms. Terms such as faith, and the true meaning of the world Catholic, for example.

Chapter Four gives us an approach to prayer and how prayers should be stated in simple straight forward language. Jewell goes further to explain how a prayer should be humble and truly from the heart and not arrogant or flippant.

Jewell beautifully puts what could be a daunting task of composing an effective prayer into something wonderfully simple and easy that anyone can use. It is a wonderful guide to anyone who prays.
~review by: Patricia Snodgrass
Website http://www.patriciasnodgrass.bravehost.com
Author: Joe B. Jewell
New World Library, 2006
pp. 105, $ 16.00