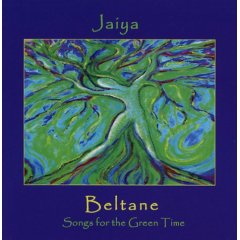 Beltane: Songs for the Green Time is, as the title says, a tribute to the turning of the year to the summer half. Like their first album (Firedance) this is an album perfect for using in ritual work – as long as you are comfortable with variety.
Jaiya is very good at re-creating traditional melodies and songs in a way that honors not only the original spirit but also their feeling (sort of like Ashley MacIssac). But I found the pieces that fuse old and new more interesting. For me, mixing Celtic sounds with those that are (for example) Middle Eastern is a good thing – both cultures can benefit from the merge. (Vas does this beautifully.)
Jaiya is: Miranda Brown on harp and vocals, Lael Whitehead on acoustic guitar, percussion, winds, and vocals rounded out by Kim Darwin on accordion. I'm not usually a fan of the accordion, but Darwin has a skill that transforms this humble instrument into something truly special. Unlike many 'pagan' groups, Jaiya actually treats their vocals with care – and both Brown and Whitehead have beautiful voices, with the skill to match.
Another excellent album: I hope to see more!
~review by Lisa Mc Sherry
Artist: Jaiya
running time 62:00