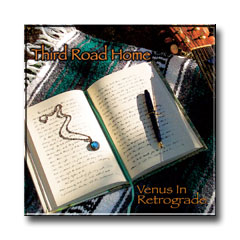 Third Road Home is the husband and wife due duo Tom and Trinity Demask who have been performing in Colorado for the past three years. Their CD, Venus In Retrograde is a lovely and poignant work filled with the quiet reflections of love and relationships.
Each time I listened to this CD, I found another layer of meaning, another memory surfacing. The lyrics of each song told a story, but I found that each story was also my story. Trinity Demask's poetic lyrics are the stories we've all lived and felt.
'Spaces In Between' sings the questions we run through our minds when a relationship ends, asking if there were something more we could've done to save the relationship: "Were my arms not open wide enough to catch you fall?"
And when we've changed and grown, the song 'Not the Same' asks "Will you know me in the end/Between what is and might've been?/Will you even know my name?/'Cause I am not the same anymore/No, I am not the same anymore."
Much of this CD reminded me of a blend of folk and country music. Each song told a story and I particularly enjoyed how the guitar and drum actually accompanied and underscored the lyrics. Trinity's voice, clear and soulful, stood out on each track. I would recommend this CD to anyone looking for gentle music with well-crafted lyrics. It is a great CD to play while you're enjoying a cup of tea after a hectic day, or when you feel a bit reflective.
~review by Karen Phillippi
Artist: Third Road Home
Excaligurl Records, 2003
CD, $10.00