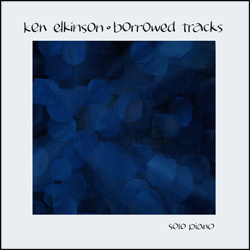 Solo pianist Ken Elkinson usually does only his own original work, but here, he has reworked ten lovely songs from other artists. He's also done a masterful job of it.
These are Ken's cover songs that he has gathered together to share with us. We have songs such as Eleanor Rigby, originally by John Lennon and Paul McCartney, Blue, from Joni Mitchell and Bob Marley's Redemption Song.
On this CD, you'll recognize the songs, but you've never heard them played like this.
This is music you can relax with and reminisce with. I actually used it for meditation as well. I definitely enjoyed this music and recommend that you download it as soon as you can.
Borrowed Tracks is available only as a digital download from: http://www.kenelkinson.com/btLB.html
~review by: Jae Napolitano
Artist: Ken Elkinson
Released by: August Son Productions
p. $8.99