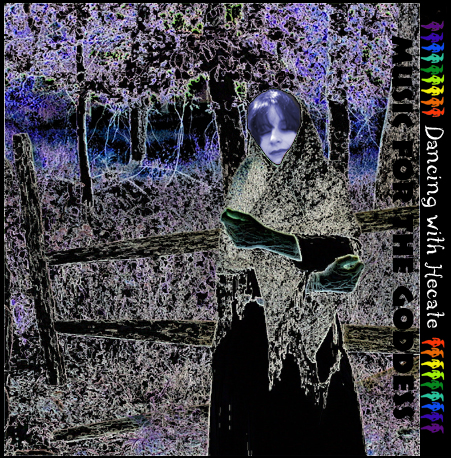 I picked up the first Music for the Goddess CD, Goddess Mandala, as soon as I heard it on a podcast. I couldn't wait for the second CD, but it was a long time coming. Wendy Sheridan, the driving force behind Music for the Goddess, had to put her album on hold as she cared for her terminally ill mother. Which, according to the liner notes, changed the focus of the music considerably.
If you're looking for a quiet, predictable, meditative CD - this is not it! Wendy and her cohorts bring a bouncy, pop-style feel to much of their music, which is fun to listen to as you're driving along the highway. It keeps you tapping along to the beat, and singing along. If I had a complaint, it would be that the music is a bit too synthesized. Unfortunately, full orchestras just aren't for easy hire these days, so a good synthetic track will have to do.
"Enya goes to the disco" is how Wendy describes the first song, 'Badger Dance'. What an apt description! Marimba provides the 8-bar riff underscoring the entire track, with synthesized drums giving it that true "disco" feel. Synthesizer brings in new melodies, and Wendy's clear voice ties the whole piece together. It does make for a sudden start to the album, which is a bit disconcerting, but quickly forgotten as the music unwinds.
The title track, 'Dancing with Hecate'' hearkens back to "When Gaia Wears Purple" from Goddess Mandala. But make no mistake; this is not a re-make of her earlier work. Backed by acoustic guitar, this track also reminds you that this is a well-made, well-rounded CD - not something thrown together on a whim.
If you visit the Music for the Goddess MySpace page, you'll find this disclaimer under 'Sounds Like:' "I have no freaking clue who we sound like. Every song is different." You'll remember this when Rob Lame's electric guitar starts wailing on 'Lord of the Dance.' Michael Flatley wouldn't set foot near this track!
I think my favorite track is 'Keep You in My Heart.' Wendy explains: "I wrote these lyrics shortly after my mother told me she wasn't continuing on her chemotherapy and that her oncologist gave her six more months to live. I was uncomfortable about showing the lyrics to her, and I never did. I regret that now." I lost my own mother several months ago, and just reading the lyrics brought me to tears. The music is lovely, warm and comforting, sad, yet celebratory of a wonderful life. It is a heartfelt, loving farewell. (The last track, 'Song for Joe', is the male version of this song; and Wendy sang it at the funeral of her coven brother.)
Every track on this CD is unique, and each has its particular influence. You'll hear hints of a Celtic inspiration on tracks such as 'The Ram and the Lamb,' ballads like 'Keep You in My Heart,' and a real blues influence on 'Tuesday's Lament.' In the mood for a chant? Try 'Uruk' or 'The Ishtar Pomp.' Either one will carry you away. Each song has its own history, its own sensibility, and the Music for the Goddess website has Wendy's gracious explanations of just where each one comes from. She includes her lyrics on the site as well, although I would like to have had them included with the CD itself.
There is no indication of when (or if) Music for the Goddess will be putting out another CD. Life brings its challenges, and quality CD production and distribution is not cheap. As of February 2010 both Dancing with Hecate and Goddess Mandala are available on the Music for the Goddess website. (As a side note, Goddess Mandala includes a 15 minute chanting track that is absolutely fantastic.) All of their merchandise (both CDs and t-shirts) are now selling for $10 each, and are well worth the price. I encourage you to pick one up for yourself, and maybe one or two extra for your friends.
~review by KatSai
Artist: Music for the Goddess
Moon & Star Records, 2005
$10