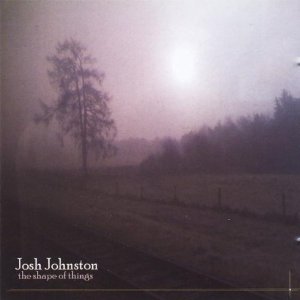 I saved this album for last, I knew it was going to be good. And it is.
The cover art of The Shape of Things depicts a foggy morning in the country, and the music Johnston produces is like a dense fog, with beautiful compositions gleaming through the mist, slowly revealing themselves. There is nothing jarring about this album, nothing overt, or obvious.
Johnston likes to play in the dark, and much of this album was recorded with the lights out. "I actually play much better in the dark. It takes more concentration and there are absolutely no distractions." In these distracting times, full of worry and woe, Johnston produced The Shape of Things as a tonic for the negativity most of us are coping with. 
The songs have hints of folk music, and jazz, but again, nothing obvious to point to and say' there, that lick is pure jazz'.  "Guest" is the best song on the album, followed closely by "Nightsong Pt. 3," and "A Light in the Dark of Night."
This is a gorgeous, uplifting, and wonderful album. Highly recommended.
~review by Lisa Mc Sherry
Artist: Josh Johnston
Shandon Records, 2010
www.joshjohnston.com