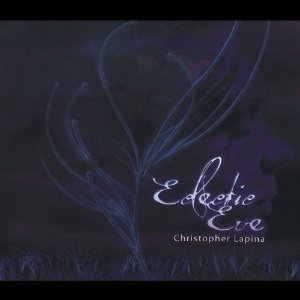 In looking at some of the other reviews available (notably at CD Baby) I can only guess that my tastes are not sophisticated enough to enjoy the "myriad depths and processes, never settling for an easy twist of stave or measure."

What you will find here is "light jazz, complex ensemble pieces, solos and duets, lovely new agey compositions, some tasty moments of cello and saxophone scattered throughout, and even vocalists on one tune singing wordless sounds."

If you like music that surprises, that has arrhythmic percussive qualities and meandering melodies, then Eclectic Eve is an album you will enjoy.
~review by Lisa Mc Sherry

Artist: Christopher Lapina
Lapina Music LLC, 2011
www.eclecticeve.com