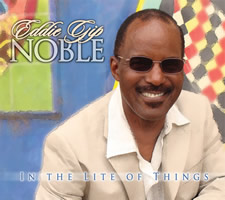 I'll state my prejudice clearly: I am not a fan of jazz. Generally speaking, jazz is just busy and vaguely atonal. Eddie Gip Noble's press materials start off by talking about jazz musicians, and I didn't think I was going to like this, his second album. But I did. It might help that Noble chose 12 well-known and highly-charted songs from the last five decades to convert into instrumental jazz pieces.
He opens with "Linus and Lucy" which is a fun piece that captures the essence of those Peanuts characters, aided by electric guitarist Jim Henken (whose background includes Bette Midler, Tony Bennett, and Tammy Wynette). Noble re-imagines popular songs like Springsteen's "Streets of Philadelphia," The Beatles "Blackbird," Peter Gabriel's "Red Rain'" Sting's "Desert Rose," Vanessa Williams' "Save the Best for Last," and George Strait's "Run."
Some songs work better than others. I didn't like either "Red Rain" or "Desert Rose" – too much atonality for one thing. Also, the originals were particular in their sound – re-doing them in a different tempo and arrangement was just annoying for me. "The Girl is Mine" is a little busy for my taste.
Overall, if you like instrumental jazz and appreciate fine playing, this is a good album for you.
~review by Lisa Mc Sherry
Artist: Eddie Gip Noble
Eddie Gip Noble, 2011
www.eddiegipnoble.com